WHY BUY A CONTAINUR POOL?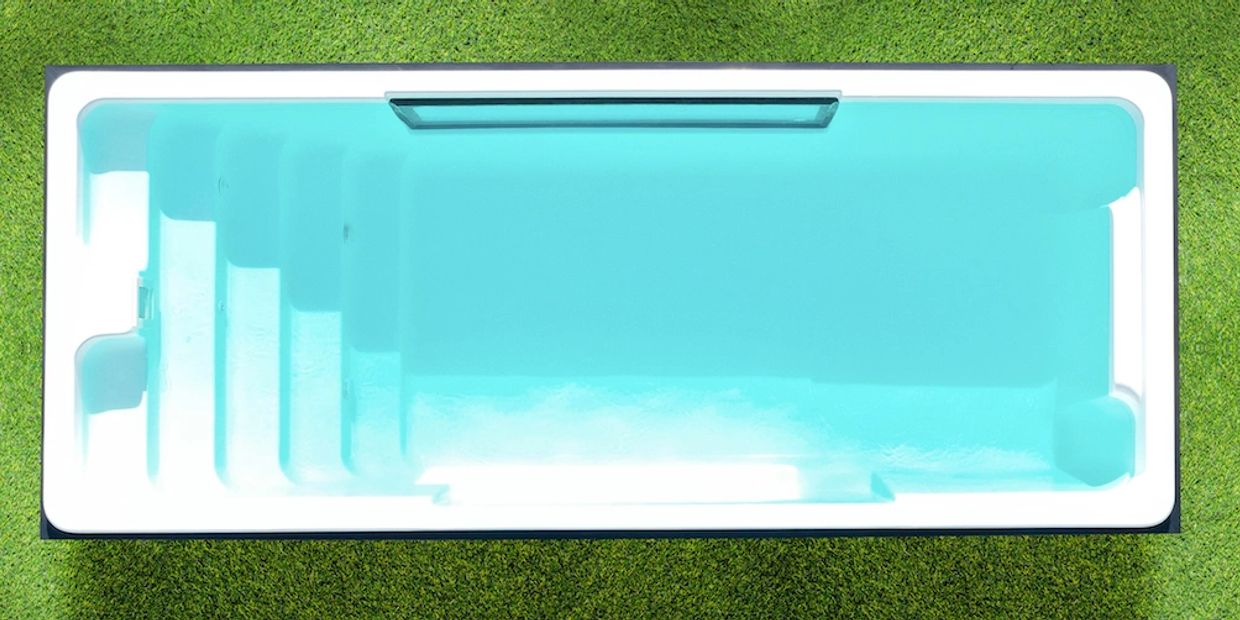 The Difference is in our Fiberglass Shell
Our fiberglass shell means no pool liner, no flaking off, no rust, and no deterioration.
Our difference is in the longevity and durability of our fiberglass shell. Custom-made for ContainUR pools, our fiberglass shells are made with the highest grade materials and tested to withstand extreme climates, excessive use, and rambunctious fun! Simply said, a ContainUR pool is the shipping container pool that is built to last.
IT'S COMPLETELY SELF-CONTAINED
Masterfully placed by our top-rated technicians, the plumbing and equipment are all contained within the side doors of your ContainUR pool. If you have a hose and a 220v 60amp outlet you can easily install your new pool. We have worked hard to keep the footprint of your container pool small and installation so simple that you will be swimming the same day your pool is delivered.
Completely Customizable
If you can dream it, a shipping container pool can do it! Need a pool to fit on your hillside yard? Done! Need a pool to lean on a berm? Done! Want to design a pool to sit off your second floor and allow you to walk off your balcony? Done and done!
100% Customer Satisfaction
Using the highest grade materials in the industry we have designed and constructed a container pool that will last. Our distinctive, custom-made fiberglass shell is backed with a 2-year warranty and our customer service and sales team are unsurpassed. When you buy a ContainUR pool you join a community of individuals ready and waiting to make sure you are completely satisfied with your pool.
Price:
8′ x 20′ Signature
Includes:
Fiberglass Shell
2Speed Pump and Equipment Timeclock
100sf Filtration System
LED Pool Light
11KW Electric Heater
MSRP: $41,000
8′ x 40′ Grand Luxe
Includes:
20′ Signature
7′ x 7′ Hot Tub with
30-50 Jets and Lounger or all Seats Spa Pump and Electric Heater
Composite Wood Upper Deck, with Stairs and Door
MSRP: $63,600
Taxes & Shipping not included. No on-site work performed.
INSTALLATION EXAMPLES
UPGRADE OPTIONS
Premium Exterior and Interior Color
Exterior (Standard: Black, Brown, Beige)
We use a 2-step coating system with rust inhibitors. We can color match any code from any paint line. Simply pick out your favorite exterior color choice and send us the brand name and paint code number.
$720
Interior (Standard: White Gelcoat) $1200 (solid)
Solid Gelcoat Color (color chart can be sent upon request) $1440 (floor only)
Our beautiful Reflections collection is fade resistant and also hides debris and waterline build-up. Each layer is applied by hand can have shimmer/glitter added for a diamond finish! $2400 (Entire pool)

Smart Pool Equipment
Variable Speed Pump and OmniHub that has WiFi capabilities with an
IntelliHUB Pool Touch Screen that integrates with smartphones/tablets, Alexa or Google Home
$4680
River Jet Swim Lane
Package includes Swim Jet with pump, additional door for maintenance, and a gelcoat swim line on the pool floor. Plus, the upgraded Smart Pool Equipment package is also included!
$7800
Heaters
Our standard heater is small but powerful and will work in most US climates for year-round swimming.
If you prefer more power for faster heating, we also offer the following (please specify if you prefer gas or propane)
45K BTU Heat Pump $3720 250K BTU Heat Pump $3840 400K BTU Heat Pump $4920
Windows
We are always working on modifications for more window designs. Right now we offer 3 sizes of 1.5″ thick windows, in the highest grade acrylic available. Each window includes beautiful metal framing. Sizes (exterior frame size):
SMALL: 24″ x 80″ x 1.5″ $6000 MEDIUM: 30″ x 90″ x 1.5″ $7200 LARGE: 43″ x 90″ x 1.5″ $8400
Water Sanitation
Adding a UV/Ozone Combo Unit reduces chemical usage by 80% which means you will have little to no skin irritation or red eyes. It also reduces bacteria-borne illness, minimizes exposure to chloramines, and inactivates 99.9% of micro-organisms in your water keeping it clean and healthy!
$2400
Miscellaneous
Water-resistant barrier for in-ground or partial in-ground placements Starting at $1200
5-Piece Insulated Safety Pool Cover $1440
Installed Exterior Stainless Steel Steps $1200
4-Tier Composite Steps $720
Shipping Container Pool Design Renders
CONTACT US TO LEARN MORE
Follow Us On Social Media