World Class Pool Design for Stay-cation Worthy Backyards
At Lucas Lagoons Design, we're passionate about bringing your dream backyard to life! Whether this means creating the plans for your fantasy pool or simply helping out on the consulting side of things, we're ready to make every moment in your backyard feel like the getaway of a lifetime!
Why Lucas Lagoons Design?
We don't just think we're one of the best pool builders and designers in the world, we know it! Here's our Top 4 reasons why we think you should consider us for your project…
Our Pool Designs Are Award-Winning
Our designs have received some of the most prestigious awards in pool design, such as the Gold Award in Residential Pool Restorations!
We Understand The Entire Project
Our background in designing, consulting, and building, gives us a keen understanding of the project from start to finish
We Dig Deeper
Unlike competitors, we'll actually perform site-specific engineering to ensure your design is compatible with your environment.
We're Deeply Passionate
Bottom line… Our team of designers, consultants, and builders are living their dream! We love collaborating with you and bringing your vision to life.
Our Designs as Completed Projects
Meet Our Founders

Lucas Congdon and Ross Hirdes are both creative types at heart who met years ago on a waterfall project and have been working together ever since! With Lucas's strong background in stone masonry and creating crazy convincing naturalistic settings and Ross's equally notable background in product design and execution, it only made sense that these two creatives team up for one seriously well-rounded design company!
"As we got working together, I realized there was really good synergy between us and we've been working together and co-designing ever since." – Lucas Congdon
Lucas Lagoons Design Consultation
Lucas and Ross discussing a new project in Kentucky
Luxury, Commercial, & Residential Designs
Whether you're looking to create a tropical escape complete with a waterfall, fire elements, grotto, and all, are in need of design plans for your business, or simply want something more elegant for your backyard than your typical rectangular swimming pool… we can help!
From custom pools that are contemporary, modern, exotic, rustic, romantic, and so much more… we're 100% confident we will be able to design something to fit the needs of YOUR specific project and location.
Start A Project
Guitar Pool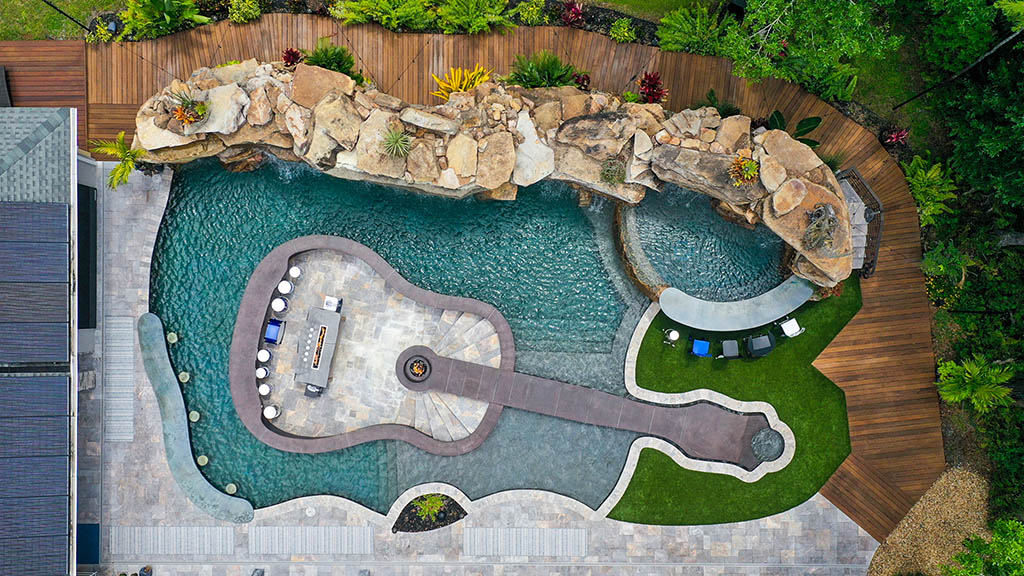 Stay In the Know
Be the first to see behind the scenes, custom designs, crazy transformations, and so much more by following or subscribing to our social media!
Instagram Feed
This error message is only visible to WordPress admins
Error: Access Token is not valid or has expired. Feed will not update.